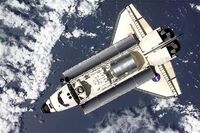 Space Shuttle Endeavour is one of the three currently operational Space Shuttle orbiters in the Space Shuttle fleet of NASA, the space agency of the United States. (The other two are Space Shuttle Discovery and Space Shuttle Atlantis.) Endeavour was the fifth and final NASA space shuttle to be built.
Current status
Edit
Endeavour is currently in the Orbiter Processing Facility being prepared for its next space shuttle mission, STS-127, currently slated to launch as early as May 15, 2009 from Launch Pad 39A at the Kennedy Space Center.
The United States Congress authorized the construction of Endeavour in 1987 to replace Space Shuttle Challenger, which was lost in an accident in 1986. Structural spares from the construction of Space Shuttle Discovery and Space Shuttle Atlantis, two of the three remaining operating shuttles at the time, were used in its assembly. The decision to build Endeavour was favored over refitting Space Shuttle Enterprise on cost grounds.
Endeavour was named through a national competition involving students in elementary and secondary schools. Entries included an essay about the name, the story behind it and why it was appropriate for a NASA shuttle, and the project that supported the name. Endeavour was the most popular entry, accounting for almost one-third of the state-level winners
For example, Utah's state level winner, Nolan Butcher, a sixth grade student from Nibley Park Elementary school located in Salt Lake City Utah, selected Endeavour because some definitions of the word mean to be bold and put forth great effort. The national winners were Senatobia Middle School in Senatobia, Miss., in the elementary division and Tallulah Falls School in Tallulah Falls, Ga., in the upper school division. The national winners were selected based on the quality of the project submitted with their entries. They were honored at several ceremonies in Washington, D.C., including a White House ceremony where then-President George H.W. Bush presented awards to each school The orbiter is named after HM Bark Endeavour, the ship commanded by 18th century explorer James Cook; the name also honored Endeavour, the Apollo Command/Service Module of Apollo 15. This is why the name is spelled in the British English manner, rather than the American English spelling of "Endeavor." This has caused confusion, most notably when NASA themselves misspelled a sign on the launch pad in 2007.
Community content is available under
CC-BY-SA
unless otherwise noted.